Antler Sculpt Repair Kits
Restore Your Trophy To Its Original Glory! Used By The World's Leading Taxidermists & Antler Artists! Kits include everthing needed to repair or restore your trophy to its original appearance. Kits contain Part A & Part B Antler Sculpt, 3 shades of touch up paints, shaping wire, sculpting sticks, paint brush, sandpaper and complete easy to follow step by step instructions. Availble in 2 sizes: 3/4 lb or Pro Sized 3 lb Unit.
3 lb. Pro Size Antler Repait Kit
3/4 lb. Antler Repait Kit
With this kit I was able to recreate the broken antlers from my 12 point buck. It turned out so perfect that no one even knows it had broken antlers. Excellent product!
Product works great. Easy to use even as a beginner!
If you walked up to my deer you would likely be unable to tell which is the tine I replaced. This kit is really nice. I had never tried anything like this before, but I had a nice 9 pointer mounted with a broken G3 and I wanted him to look his best. I followed the instructions and is kit worked real well.
The repair kit had easy to follow instructions and all the materials I needed and worked perfectly. I was very satisfied with the results.
I was a little skeptical when I bought this kit, but after using it, no skepticism anymore! This kit worked exactly as advertised. Very happy with the results. I'd buy it again.
Very good product! It looks so real one would not be able to tell the point was fabricated. Awesome product!
This kit is great for repairing antlers. I repaired a 12 point rack that had been demolished!
This repair kit is awesome!. Love it! It was very easy to work with and turned out great!
USA ONLY - NO INTERNATIONAL ORDERS
USA ONLY - NO INTERNATIONAL ORDERS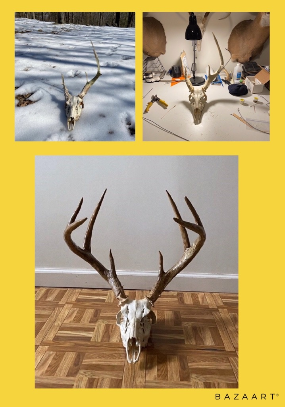 Photos Submitted By Atler Repair Kit Customer John J. Pennsylvania